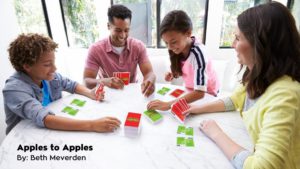 A game our children enjoy playing together as a family is "Apples to Apples"! They love to try to guess what each other's favorite card in our hand would be. They love to see what others think they like by looking at the cards they're given. There's something special about being known by family and knowing them. Plus – it's a pretty great feeling when you get the highest scoring card! 
We
want
to know those we love well.
As parents we know the cards we choose for one child are totally different than the ones we'd choose for another child. God designed us that way. Games like Apples to Apples remind us of the uniqueness of each of the people in our family and that they need us to love them in unique ways.
We used to have a gorgeous apple tree in our backyard. Each September our family loved to have an apple harvesting day. The children enjoyed it for different reasons, though. One child enjoyed it because of the opportunity to climb the tree and the ladder to collect apples. Another child enjoyed it because of the challenge to see how many good apples we could find as a family. The other child loved it because of the reality that homemade apple pie was on that day's menu!
As we stroll into fall, let's…
get to know our children and let them get to know us,

make some time to celebrate the differences in each of the people in our families, and 

celebrate what each child adds to our family, giving them opportunities to shine in those areas. 
Just like each apple on the tree is uniquely shaded and shaped (but just as delicious and nutritious), God made each of our children unique and wonderful and we are to savor them! Each of them is special to God, like the apple of His eye. Let's love them like Him this season!
Keep me as the apple of your eye; hide me in the shadow of your wings. Psalm 17:8
What can you do to celebrate each of your children this week?